If you're feeling like Givenchy is getting unfairly overlooked by the online fragrance community, you're not alone. If I'm being totally honest, I so rarely hear about this historic French brand in the media that I was blatantly ignorant to their "prestige" range, nicknamed Les Creations Couture (no less than 5 fragrances) until this week when a British newspaper mentioned it in passing. There's something to be said about their being a smaller part of LVMH than, say, Christian Dior, but at the same time I feel like their marketing strategy is just not as pointed as other brands, for better and for worse. Like Guerlain (another Louis Vuitton company) I think they are relying on word-of-mouth, a mother guiding her daughter to her first perfume for example, instead of online buzz to drive sales. But of course, that is all my speculation. What I'm saying is, I think more bloggers should take a look at their collection, because it has some exceptionally crafted scents that may surprise and are certainly worth talking about as much as any Giorgio Armani or Tommy Hilfiger (which, in turn, are getting a lot of coverage).
     Today we're delving into one of the newer releases from the house, a masculine flanker to Gentlemen Only ($103*) released this year (albeit relatively quietly, at least in Canada). It would appear that with Parisian Break, as it is called, the house made a conscious decision to go after a different type of customer than what we've come to expect. Notice for example the design of the bottle, with its deliberately transparent glass as opposed to the dark glass of Gentlemen Only's past. Combine that with the screen-printed illustration of the Île Saint-Louis on the back of the bottle and the front of the box and you have a very nontraditional presentation indeed, a soft and dare I say "feminine" interpretation of the line, marketed with Australian actor Simon Baker as its face. Terms like "good manners" and "good taste" are thrown around in the press kit, a nod to the metrosexual man and a welcome deviance from the typical "super duper turbo charged ionic best ever" stuff I've gotten used to. It is available now at The Bay for $96* (I received my bottle for review consideration courtesy of LVMH Fragrance Brands).
     The original Gentlemen Only has been described by reviewers as a soapy woodsy daytime scent that tends to ring similar to a lot of other high street staples, but nevertheless pleasing and generally "nice." Note, however, that the only resemblance between that one and Parisian Break is the vetiver in the base. It is worth testing even if you loved or hated the original. Parisian Break opens with notes of lemon and mint, moves to a heart of sage, and ends with amber and the aforementioned vetiver. At first glance that seems like a short list, but what it means is that each note gets a fair chance to shine. And, I have to tell you, shine they do.
     Parisian Break practically explodes onto the scene, a vibrant and aggressively powerful scent similar to Versace's Eros in longevity and strength (and in aroma, actually). The words that come to mind as it assails the senses are sweet, sexy, fresh, woodsy, and sharp. I get a strong menthol vibe from the mint, a little artificial zest from the lemon, and almost a good amount of vanilla although it is unlisted as an official note. Additionally, the sage and vetiver add a little bit of earthiness, reminding me of patchouli. After an hour or two the base turns aquatic and light. If the original was soapy woodsy, this one is sweet woodsy. Again, an admirable straying from the typical path. In comparison to Casual Chic ($103*), which came a whole year earlier in the same line and has much more in common with the original, Parisian Break is a total breakaway and in my opinion, far superior.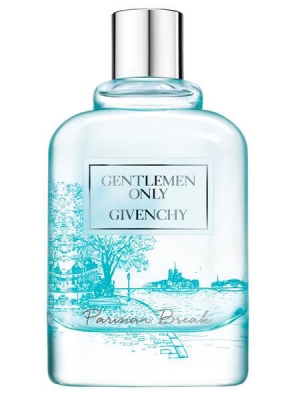 Verdict: In case I wasn't clear enough (and I know I tend not to be), I am genuinely pleased with Parisian Break. To me it doesn't say Paris, but then again I've never been so who am I to judge. It's a confident smell, something easy to wear that you do not need to think a lot about. I have to say that despite the bright packaging I still only reach for it at evening time, though it can be dressed up or down easily. If you're feeling like you haven't given Givenchy a fair chance, pick up a bottle and take it for a spin. You might discover something you didn't know.
---
*Prices true at time of writing.
---
You can check out Givenchy at their website, Twitter, Facebook, and Instagram.
---
Enjoyed this article? Love fragrance & beauty? Make sure to subscribe to Nosegasm.com by email so you don't miss the hottest reviews, latest news, and awesome giveaways. Find us on Twitter, Instagram and YouTube, too!